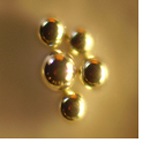 If none of our standard products meet your specifications then our coated microspheres can be customised to produce material with particular size ranges, densities and coating thicknesses.
In addition to our silver and titanium dioxide coated products, we are experienced in coating microspheres with a range of other materials including metals, oxides and pigments.
Please contact us to discuss your requirements.